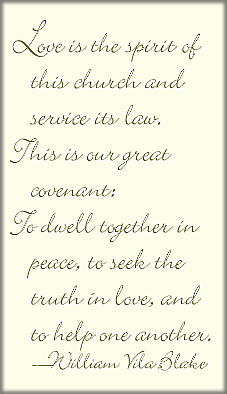 Welcome to the Unitarian Congregation of Mendon and Uxbridge, Massachusetts!

We are a Unitarian Universalist Congregation endeavoring to find the spiritual truth in our living and through our worship. With about 75 members, we welcome all to get acquainted and become involved in the life of the church. We believe religious education is a life long process and provide programming for all ages.

We are a congregation with two church buildings. Both are wheelchair accessible. We host a variety of community organizations. These include the Quilt Guild, an AA meeting, and the Riverside Community Dances. We are committed to keeping the buildings available and accessible for the service of the larger community.
The Unitarian Congregation of Mendon and Uxbridge is a member of the Unitarian Universalist Association (UUA), which has international headquarters in Boston. Each congregation, however, is autonomous, and its members alone make all its institutional decisions.


Page last updated: 12/21/2010
Spotlight:

THE BLACKSTONE RUN BAND
will be performing on
SUNDAY, May 13, 2012 AT 4:00 PM. @ FIRST PARISH UNITARIAN CHURCH,
13 MAPLE STREET MENDON, MA